Occupational Hazard
Printable word jumbles are a fun game for everyone. We have medium to difficult ones for adults, as well as a whole section of easier free word scrambles for kids. You'll notice our word games cover a wide variety of topics. You're sure to find something you like!
This puzzle is quite unique! Here are the directions.
Print out the game sheet.
Add one letter to each line. Write it in the first blank.
Rearrange all the letters to spell the name of an occupation.
Write the new word in the second blank. For example, you could add S to the letters IGNRE to spell SINGER.
Rearrange all the letters you added to spell a 9-letter occupation.
Here's a screen shot of the printable page: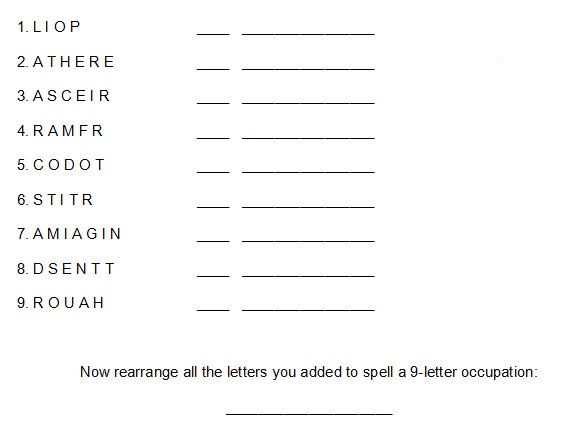 Occupational Hazard
Answers
(Variations are possible.)
1. T – PILOT
2. C – TEACHER
3. H – CASHIER
4. E – FARMER
5. R – DOCTOR
6. A – ARTIST
7. C – MAGICIAN
8. I – DENTIST
9. T – AUTHOR
ARCHITECT